Welcome to the Bright Ideas Blog Hop - a great place to find a TON of fabulous ideas for the classroom!
Writing, Writing, Writing!
Starting in September, with the very first piece of descriptive writing that my new little 3rd-graders complete, I save up to 5 pieces of writing a term and store them safely in a tray behind my desk. I don't tell my students I am doing this.
What to Save?
I try to vary the pieces - we always have a descriptive piece, a letter or diary entry, a narrative, one or two poems, a compare and contrast, an opinion, maybe a report of some kind - the possibilities are endless. Just save whatever you want to during the year. Last year I let everyone choose their favorite blog post and we printed a copy of that in color for the Writing Book - they loved that!
Very first piece of writing
a poem
Christmas story
first attempt at paragraphing
diary entry from a Roman soldier
Showcasing the Writing!
At the end of the year I make a whole pile of stapled construction paper booklets, use a computer class to get the kids to design a cover for My Writing Book and then pass out all their samples to glue in - in order.
They LOVE it! By now they've completely forgotten what they wrote about back in September and they love comparing their first piece of writing with the last piece. Their comments (usually rather scathing) are very funny!
Once everyone has glued their book together we spend a whole morning passing the Writing Books around and reading everyone's work. It's a great end-of-year activity.
I always get feedback from parents about the Writing Book - it's a great Grade 3 keepsake. :)
Now, make sure you visit Sara at The Colorful Apple to find another Bright Idea - this one is about Anecdotal Notes for Reader's Workshop!!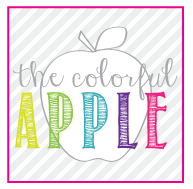 (You can visit Sara's blog post
HERE
as well :) )
Alternatively, check out all the links below for more fabulous ideas for your classroom. They're divided into lower grades and upper grades for your convenience (but I always like to visit both sections since some ideas can always be adjusted :)
Have fun hopping! :)